Wi-Fi Temperature Sensors Vs. Fridge Temperature Charts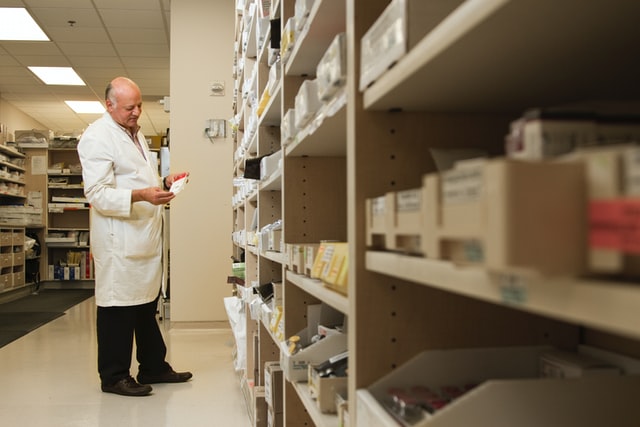 Manual temperature recording is part of the daily routine in many hospital and healthcare environments and medical storage facilities. Employees can be quickly trained to take readings at designated intervals, resulting in a data log that shows whether or not the required temperature range has been successfully maintained. However, relying on manual updates gives you, at best, a series of snapshots throughout the day rather than a complete real time picture, furthermore, it is time consuming and inefficient. Until now, remote temperature data logging has not been a practical or cost-effective option. In this article, we compare the two approaches.
Image source: Unsplash 
1) Manual Fridge Temperature Monitoring
Manual fridge temperature charts are a simple and low-cost method of monitoring the temperature of refrigerated drugs, medicines, vaccines, etc. On the surface, the idea is a good one. All that's needed is a reliable thermometer, the staff with time to take readings and a safe place to store the temperature data. However, there are significant risks associated with such method. Temperature excursions are almost always discovered after the event. All temperature excursions must be fully investigated which is a time consuming and expensive process. This often involves contacting one or several manufacturers of the contents stored in the fridge or freezer whilst the contents remain in quarantine. In addition, when in a critical, primary or any care environment, the temperature monitoring process can often be considered a low priority. Therefore, the possibility for inaccuracies to occur within this system and the risks associated with inaccurate temperature monitoring, are significantly increased.
2) Remote Wireless Wi-Fi Temperature Monitoring
A remote wireless Wi-Fi data logging system provides unrivalled reliability, performance and traceability for all your temperature and humidity monitoring requirements. A Wi-Fi fridge and/or freezer temperature recording solution provides 24/7 system monitoring. This is a system that alerts staff immediately to a problem at its point of origin, allowing them to take immediate action, limit drug or vaccine disposal therefore providing huge cost savings whilst significantly reducing any associated risk. All this, with the added benefit of removing the burden of taking manual temperature recordings away from your busy staff.
Remote Access
If there's one thing that the pandemic has taught us, it's the importance of remote access to critical applications. The guarantee of having someone on hand 24/7 to take manual recordings has been removed, requiring many hospitals and healthcare centres to think carefully about their remote cold storage monitoring solutions. An example of that is the pharmaceuticals industry which has had to respond to a sudden shift in demand, raising a host of storage and staffing problems. With remote access using a wireless Wi-Fi data logging system, products that are locked in unmanned facilities, or those such as the Pfizer, Moderna and the AstraZeneca vaccines that require careful temperature monitoring, can be now be remotely monitored with complete confidence.
No Loss Of Data
Another important feature of a Wi-Fi temperature monitoring system is the ability to minimise the event of losing any data. Data loss is an enduring issue throughout the medical and healthcare industry. Ideally, solutions need to be secure and remotely positioned so that any hardware or other system failures do not result in any lost data. The low-cost solution provided by Signatrol's Cadmus data logger and the Ratifi-Cloud platform, allows you to create an automatic data backup to the Ratifi-Cloud up to every sixty seconds. In addition, the battery powered Cadmus temperature and temperature with humidity (RH) data logger, can store locally over 30,000 readings in the event of any loss of Wi-Fi network. Once the Wi-Fi network has been reinstated, any gaps in the data held within the cloud will be automatically back filled and any alarms or notifications recorded. This extra layer of safety provides a backup that dramatically outweighs the use of manual recordings.
Next Steps
When it comes to temperature monitoring, frequency, accuracy and traceability are vital. The manual method may appear to be simple and low cost however, the risks and increased costs in vaccine and drug losses and wastage associated with such a system are significant.
The Cadmus & Ratifi-Cloud remote wireless Wi-Fi solution easily overcomes these challenges whilst offering unprecedented insight into storage activity, trends and conditions. To learn more about how technological innovations can improve your efficiency, please give us a call.