Ratifi Version 1.2 Available Now – Improved Cloud-Based Data Logging & Alerts For WiFi Data Loggers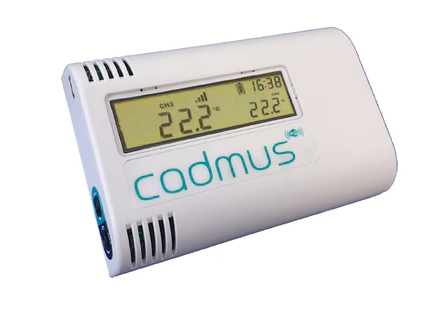 Version 1.2 of our Ratifi premium cloud-based data logging and alarm platform is available now for all users of our Cadmus range of Wi-Fi-enabled data loggers. This is a huge update with significant performance improvements for all Cadmus customers, with faster access speed, enhanced security, and a suite of new tools and features.

WHAT IS RATIFI?
Ratifi is our secure data logging platform that loads and stores encrypted data from one or more Cadmus devices. The platform receives inviolate data (data that cannot be edited once logged, such as temperature and humidity readings) from WiFi-enabled data loggers at established intervals and stores the data in a high-security cloud interface. Providing powerful graphical data analysis tools and a simple to use Audit Trail, it meets the requirements of FDA CFR21 Part 11 and  BS EN 12830 
Access to each Ratifi cloud account is restricted to authorised users, with access rights, alarm levels, and system configurations controlled by an Administrator – who is normally the 'Responsible Person' within an organisation.
The system can be configured to generate automatic alarm notifications to designated persons by email or SMS if a parameter exceeds its pre-set limits.
WHAT'S NEW WITH VERSION 1.2?
Ratifi Version 1.2 is a comprehensive performance upgrade to previous versions of Ratifi – being faster and more efficient, with very little downtime.
NEW FEATURES AND BENEFITS INCLUDE:
Unlimited data retention period – many data logging platforms have an upper limit of two years, with some services as short as six weeks.

Each company account can host up to 1,000 concurrent projects (e.g. individual sites or laboratories), with each project having 200 nominated users who can work on the system at the same time.

Huge data storage capacity – up to 20 individual million readings.

Each company has its own dedicated database, allowing greatly increased access speeds and overall enhanced performance.

Page load time greatly improved

Graphs and reports can be produced in as little as 4 seconds

Export module reports are now an emailed link to download data

Emails are now queued to prevent loss by AWS (Amazon Web Services)
The new version has automatically replaced the previous version of Ratifi for existing users, so current Signatrol customers will already be able to access the new features and improvements without taking further action.
CLAIM YOUR FREE DEMONSTRATION OF RATIFI AND CADMUS
Ratifi is now the premier cloud-based data logging system for the NHS, pharmaceuticals, and food processing sectors in the UK.
If you'd like to find out more about Ratifi and Cadmus, and how our advanced cloud-based data logging and monitoring solutions can improve the accuracy and efficiency of your cold storage devices, please email sales@signatrol.com or call 01684 299399 today to request a free, no obligation trial.