Happy Birthday to Us!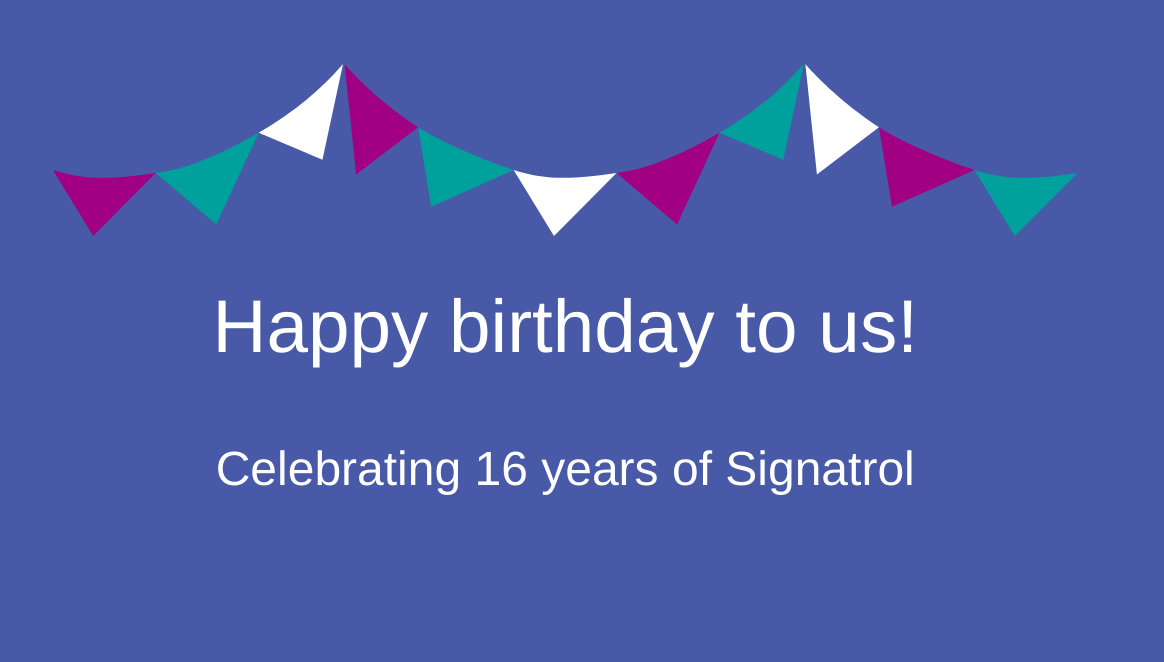 We first started trading in December 2003, after purchasing the data logger division of Status Instruments, a company I started in the 1980's. We had the vision that Signatrol would design, manufacture and sell its own range of data loggers worldwide. With hard work and a brilliant team, that quickly became a reality for us.
Initially, Signatrol was a distributor for other companies, but not wanting to be a purely sales organisation, we sat down and designed our first data logger that was able to everything that other data loggers could do (and more). The first data logger that we produced under the Signatrol umbrella was the SL7000 and is one that is still sold today. The SL7000 is a multi channel data logger that includes internal temperature sensors and up to eight universal inputs per device.
The miniature temperature data loggers, or buttons, were next to become part of the Signatrol family. It was important to us that we designed some software that would communicate securely with the buttons and provide a sophisticated platform for it's users to analyse the data. Only the Signatrol data loggers work with our specially designed Temp-IT software. 
Since the first miniature temperature data logger was sold in 2014, we have sold over 35,000 buttons to companies worldwide.
We then developed Spydaq; a robust, wireless data logging system that is highly reliable and has a custom communications protocol, recognised by the UK Patents Office (Patent No. 2479520). Its unique innovation means that the likelihood of losing a single reading is once in every 67 years which, for all intents and purposes means practically never.
We have been working alongside IMEC selling their tempmate range of data loggers since 2012 and have been impressed with their performance. In order to better serve our customers, we recently became their exclusive Partner covering the UK and Ireland. IMEC manufacture data loggers from the single use tempmate-S1 to the multi-functional tempmate-GS and we look forward to an exciting and profitable partnership.
I find it really interesting when we hear how customers are using our data loggers; for example, they are using to monitor the hibernation pattern of a tortoise in a zoo, inserted into steak pies to monitor temperature whilst cooking. They've been used in dentist autoclaves, beehives, washing machines, schools, pharmacy fridges, museums, farms and lorries transporting shipments. The list continues to grow and I like to think that with each new application we learn a bit more about the market and the challenges our customers face.
And what's to come? Maintaining our position at the leading edge of technology we have embraced the Internet of Things (IOT) with our new system, Cadmus which we will be launching early 2020. When used with our cloud based software, Ratifi, it provides the sort of WIFI enabled high security platform required for the 21st century.
I'd like to take this opportunity to thank our customers, suppliers and everyone who has been part of our success so far. On behalf of everyone at Signatrol, I'd like to wish you all a very Merry Christmas, and a happy and healthy 2020. 
Brian Turner, Managing Director